Thickness Tester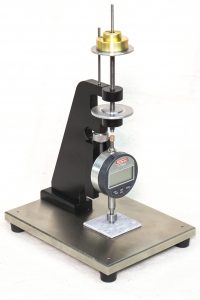 References:
ASTM D-1777; ASTM D-645; ASTM D-374; ASTM D-366; ASTM D-395; ASTM D-1813; ASTM D-5199; DIN 53855; Boeing BMS 5-90C; FTMS 191-5030; SAE J882-85GM; SAE J882-85GM; J.C. Penny MTC-123
This fine and versatile instrument is designed to determine the Thickness Recovery of a material after it has been subjected to indentation by a specified size of a pressure foot, a determined load weight and for a defined time period. All parts for this instrument have been precision machined and meticulously assembled by our experienced and dedicated instrument makers. Pressure feet size are available from, 0 .125 inches to 2 .00 inches in diameter. This instrument can measure thicknesses up to 1.0 inch. Different size weights up to 2.0 lbs are available to suit your needs.
Model: DSI-55 XP Series – (D/CS-55 Older models)
Approximate size, (W x H x D ): 8 x 10x 12 inches
Approximate weight: 10 lbs
To Request a quote or for more information, Call 908-226-1777 or info@dektroncorp.com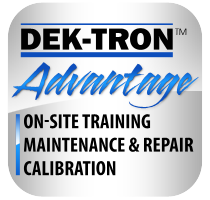 All DEK-TRON Instruments includes the DEK-TRON Advantage!!
Maintenace & Repair Service, On-Site Training or Training at Dek-Tron Training Facilities, Accessories, Instrument Calibration, Parts