Latex Mechanical Stability Tester
References:
ASTM D 1076: Section for Mechanical Stability, Standard Specification for Rubber Concentrated, Ammonia Preserved, Creamed and Centrifugal Natural Latex.
ASTM D 1417: Standard Methods of Testing Rubber Lattices- Synthetic
DEK-TRON is proud to offer this fine, state-of-the–art instrument. The apparatus is designed to test the Mechanical Stability of concentrate natural lattices and synthetic lattices when subjected to high speed mechanical stirring or mechanical shear. Stirring is applied to lattices until the End Point or Latex Instability is reached.
The approach of the end point is usually indicated by a drop in meniscus of the latex, loss of turbulence, and in some instances a change on the sound of the stirring action.
The End Point is determined by the presence of small pieces of coagulated rubber and after and increase amount of coagulated rubber after addition agitation. The End Point may be further verified by straining the latex through the 180 micrometer stainless steel screen. The End Point in this case is the presence of approximately 1% of coagulum based on total solids.
The apparatus features DEK-TRON's outstanding qualities, precision, durable machined parts, quality materials, careful assembly by well trained and dedicated instrument makers.
To Request a quote or for more information, Call 908-226-1777 or info@dektroncorp.com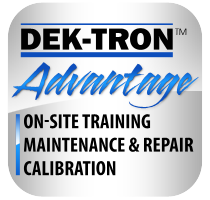 All DEK-TRON Instruments includes the DEK-TRON Advantage!!
Maintenace & Repair Service, On-Site Training or Training at Dek-Tron Training Facilities, Accessories, Instrument Calibration, Parts