Random Tumble Pilling Tester
References:
ASTM D-3512; GM – 96532-P
The Random Tumble Pilling (RTP) Tester is used for evaluating the resistance to the formation of pills on different materials, such as: Clothing, textile fabrics, fabric upholstery, automotive seat belts, automotive seat cover materials, seat covers for railroad passenger cars, materials used on many artifacts and accessories by the marine and airline industries…..etc. Pill is a term used to refer to bunches or balls of tangled fibers that appear after certain wear and usually held at the surface of the fabric materials.
During test, the apparatus produces a random rubbing motion at a precise and constant speed as outlined by the Referenced Test Method. The cycle duration of the test it is easily adjusted at the control panel.
Model: DSI-55RTP
(D/CS-53 older models)
Approximate dimensions:
(W x H x D): 24 x 20 x 15
Approximate weight: 120 lbs.
Electrics: 115 volts, 60hz, 1 ph
(Other electrics available)
To Request a quote or for more information, Call 908-226-1777 or info@dektroncorp.com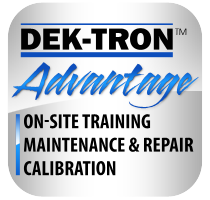 All DEK-TRON Instruments includes the DEK-TRON Advantage!!
Maintenace & Repair Service, On-Site Training or Training at Dek-Tron Training Facilities, Accessories, Instrument Calibration, Parts