ZDT Tester xp2 Series
References: ISO 15754, TAPPI T541 and Standard D.37P Specifications
DEK-TRON's commitment and dedication to excellence has brought to the market the most exceptional instrument to perform the Z Directional Tensile Test for paper and paper board products. The development of the ZDT Tester XP2 Series
The ZDT XP2 Series includes precision machined parts and high quality materials and components. Each component is carefully inspected and tested prior to a meticulous assembly. These exceptional qualities make this instrument the most reliable, precise, and durable instrument available in the market. And yet, it is simple in design and operation.
Features:

LCD display – large numbers, easy to read.
Calibration – Allows calibration from LCD display. Calibration can be performed in minutes( Lb, Kg. N. )
During test LCD displays – Maximum Peak Force, Average Force, Standard Deviation, and Coefficient of Variation (COV)
Minimum maintenance is required
We offer directly from our factory – maintenance, parts, and full technical support…
[/column]
To Request a quote or for more information, Call 908-226-1777 or info@dektroncorp.com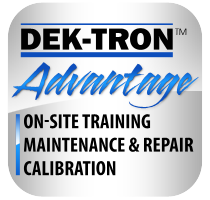 All DEK-TRON Instruments includes the DEK-TRON Advantage!!
Maintenace & Repair Service, On-Site Training or Training at Dek-Tron Training Facilities, Accessories, Instrument Calibration, Parts