Shrink Tension Tester
Referenced Test Method: ASTM D 2838
The instrument is used to perform Shrink Tension Test of plastic sheathing materials as required by above Referenced Test Methods. The instrument consists of (3) major parts, the sample holder, software and electronic interface box and temperature bath. To conduct the test, the liquid of the temperature bath is brought to the required test temperature, when ready; the prepared sample is placed in the sample holder and firmly clamped. When ready, the sample holder is immersed in the temperature bath liquid at which moment the software takes over the shrink tension test, recording and calculations…..etc.
The instrument shows DEK-TRON's extensive experience, commitment to improvement and excellence. Features precision machined parts of carefully selected materials. The instrument is meticulously assembled by our experienced and dedicated instrument makers, resulting in a precision and easy to use instrument.
The STT-205 XP Series, Shrink Tension Tester has evolved from past models, DCS-205 and CS-205. The STT is now more accurate and easy to use. The instrument can easily be connected to a lap top or desk top computer via a USB cable. The software is offered in a plug and play CD. The software allows: Instrument calibration, selection of units in Lbs., Newtons, Grams; Print Graphs; Reports…etc. Old models can easily be retrofitted to the new STT-205 XP Series.
Standard load cell capacity: 10 Newtons (other capacities available )
Approximate sample weight (hand held type): 2 lbs
Temperature Bath Size, ( L x H x D ): 30 x 26 x 14 inches
Approximate Temperature bath weight: 45 lbs.
Electrics: 115 volts, 60hz, 1ph (other electrics available )
To Request a quote or for more information, Call 908-226-1777 or info@dektroncorp.com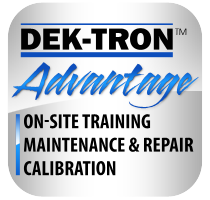 All DEK-TRON Instruments includes the DEK-TRON Advantage!!
Maintenace & Repair Service, On-Site Training or Training at Dek-Tron Training Facilities, Accessories, Instrument Calibration, Parts