Indentation Tester
References:
ASTM F1914-98: Standard Test Method for Short Term Indentation and Residual Indentation of Resilient Floor Covering; ASTM F-6 Floor Covering
This instrument is designed and built for heavy duty industrial laboratory use. All parts are precision machined and carefully assembled by our experienced instrument makers. The unit is fully tested prior to shipping.DEK-TRON Scientific Instruments is the only ASTM noted manufacturer of this product.
The major components of the instrument are: main frame, weight rack and screw load chamber, hand wheel to release load, and a micro-indentation indicator. The unit can be equipped with the accessories listed below. Other weights and presser foot are available to conform specific needs. Measurement of weights, and presser foot are NIST traceable.
Standard Weights and Presser Foot:
Five 5 lb. weight.
Ten 10 lb. weight
Twenty 20 lb. weight
Presser Foot, flat foot, 0.178" diameter
Presser Foot, flat Foot, 0.250" diameter
Presser Foot, ball tip, 0..500 " diameter
Presser Foot, ball tip, 0.750 " diameter
Approx. Ship Crate Dimensions, inch – 30W x 30D x 36H
Approx. Shipping Weight (without weights) – 175 lbs
To Request a quote or for more information, Call 908-226-1777 or info@dektroncorp.com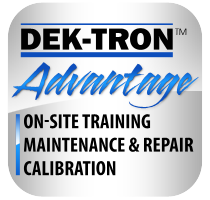 All DEK-TRON Instruments includes the DEK-TRON Advantage!!
Maintenace & Repair Service, On-Site Training or Training at Dek-Tron Training Facilities, Accessories, Instrument Calibration, Parts