Pillling Tester
This versatile and fine instrument is designed to test the Pilling Tendencies of different Fabric Materials, Leather, Textiles… etc During test, the instrument produces a precise angular rubbing motion over the sample; while the sample is firmly held in position by its sample holder and subjected to a specified weight. The required test period can be easily preset at the control panel.
As required by the Referenced Test Methods, DEK-TRON offers this instrument with different types of rubbing boards such as: Sponge, Brush, and Cloth, as well as different sample holders and weights for the required application. Capacity up to six samples.
Model: DSI-53 PT
(D/CS-53 Older models )
Approximate size ( L x H x D ): 36 x 15 x 12 inches
Approximate weight: 70 lbs
Capacity: Up to six (6) samples
Electrics: 115 volts, 60 Hz., 1ph
(Other electrics available)
To Request a quote or for more information, Call 908-226-1777 or info@dektroncorp.com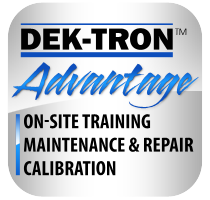 All DEK-TRON Instruments includes the DEK-TRON Advantage!!
Maintenace & Repair Service, On-Site Training or Training at Dek-Tron Training Facilities, Accessories, Instrument Calibration, Parts