Free Falling Dart Impact Tester
References:
ASTM D-1709; ISO 7765-1
The Free Falling Dart Impact Tester measures the impact resistance of plastic film by a Free-Falling Dart. In addition, this instrument allows the determination of the amount of energy absorbed by the specimen when impacted by the falling weight (dart).
The Free Falling Dart Impact Tester is offered with different options to best fit the requirements of the application such as: Different size columns to position the different darts at different dart heights, different sizes of darts, a low temperature chamber, a time digital display….
Model: DSI-126 XP Series (Current)
D/CS-126 – Older Model
Approximate size: (WxDxH): 16x16x12 inches
No column included
Approximate weight: 25 lbs
Electrics: 115volts, 60hz, 1ph
(Other electrics available)
To Request a quote or for more information, Call 908-226-1777 or info@dektroncorp.com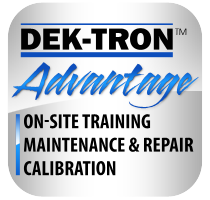 All DEK-TRON Instruments includes the DEK-TRON Advantage!!
Maintenace & Repair Service, On-Site Training or Training at Dek-Tron Training Facilities, Accessories, Instrument Calibration, Parts