Melt Flow Index Tester
References:
ASTM D1238 Method A; ASTM D3364; ASTM D3835; ISO 1133; DIN 53735; JIS K7210; BS 2782; NF T51-016
The MFI Tester is used for plastics, plastic products derivatives and the like…, features the already well defined characteristics of DEK-TRON's instruments, Quality, Precision, Durability, Reliability… The MFI is designed and meticulously assembled making it well suited for an industrial R&D lab environment where precision and reliability are of paramount importance. The required temperature can be set with precision and simplicity, by simply touching the Up or Down arrow keys at the control panel. The sample tested is manually gathered and recorded. …. The instrument is shipped complete with Weights, Tools, Operators Manual, Calibration and Warranty Record.
Model: DSI-127
Approximate dimensions: 16 x 24 x 16 inches
Approximate weight: 65 lbs.
Electrics required: 115 Volts, 60 HZ, 1 Phase
(Other electrics are also available )
To Request a quote or for more information, Call 908-226-1777 or info@dektroncorp.com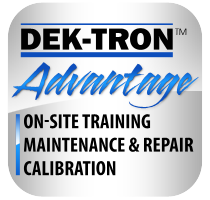 All DEK-TRON Instruments includes the DEK-TRON Advantage!!
Maintenace & Repair Service, On-Site Training or Training at Dek-Tron Training Facilities, Accessories, Instrument Calibration, Parts