Score Bend Quality Tester
References:
TAPPI T 829 om 08; TAPPI T 577 pm 08
This instrument is designed and built to exclusively perform the Score Bend Quality Test – NO need to adapt or replace parts or accessories to make it work…. This instrument enables to evaluate with precision the Score Bend Quality in a scored board specimen. The instrument measures the stiffness of the material sample and displays its peak value results.
This precision instrument, can be used with or without a computer. Features RS-232 and USB for computer communication . Peak results units can easily be selected to show in Lb, KG and N.
To Request a quote or for more information, Call 908-226-1777 or info@dektroncorp.com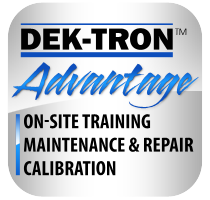 All DEK-TRON Instruments includes the DEK-TRON Advantage!!
Maintenace & Repair Service, On-Site Training or Training at Dek-Tron Training Facilities, Accessories, Instrument Calibration, Parts